#Horoscope #Aries #Taurus #Gemini #Cancer #Leo #Virgo #Libra #Scorpio #Sagittarius #Capricorn #Aquarius #Pisces #Horoscope – overview of this week
The Center for the New Age is pleased to present your Free Weekly Horoscope for October 11-17, 2020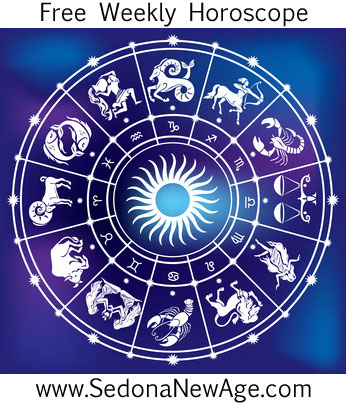 Receive our Free Weekly Horoscope in your Inbox
Aries Taurus Gemini Cancer Leo Virgo Libra Scorpio Sagittarius Capricorn Aquarius Pisces
Jupiter sextile Neptune (October 12 – November 13) provides us with opportunities for new awareness and confidence and the spirit may be newly empowered with divine intuition. When the planet of expansion (Jupiter) is sextile to the planet of spirituality (Neptune) discoveries may occur, showing us how to stretch out our spiritual experience of life, and to empower our beliefs with something that brings us joy and fulfillment.
Mercury sextile Venus (October 12 – October 18) brings good news and opportunities concerning love, music and the arts. There are opportunities to sell art or valuables. This is a good time to get the message of love across where it is needed most. Love will come back to sustain the heart and this is a good time to call it to the attention of those people we treasure.
New Moon in Libra on October 16 gives us the power to focus on our decisions and make adjustments accordingly. This is an important time of establishing new ground rules for creating balance in relationships and partnerships. It is a good time to work on harmonizing and balancing unsettled matters which need to be addressed among loved ones.
Aries Taurus Gemini Cancer Leo Virgo Libra Scorpio Sagittarius Capricorn Aquarius Pisces
Free Weekly Horoscope for your Sign
Aries:
Reining yourself in might prove difficult this week, but if you can find constructive ways to channel your considerable energy – such as through work or physical activities – this could be a productive, even successful, time. Your personal life will require a degree of conscious awareness, though, as the chance of conflict runs high but the New Moon also gives you a chance to turn over a new leaf in your relationships.. Mars in your sign asks you to become more aware of your needs, and if these have been sacrificed, it might be difficult to keep a lid on things. Therefore, the challenge this week is to discover what you want and to be assertive in your right to be more of yourself while striving to find some kind of balance in your relations with others. Consequently, some kind of change might be necessary.

---
Taurus:
The New Moon asks you to build on the theme of bringing the potential to create a new beginning in one area of your life. We tend to make life more complicated than it needs to be. In what ways could you simplify your life? For example, could you manage with less so that you have more time? Could you take a simpler view that leads you to see a situation with greater peace and harmony? Could you reduce your time spent with technology, which has a complicating effect on minds and nervous systems, and instead spend more time in nature or in spiritual or artistic activities? Could you clear some clutter to create a feeling of space and simplicity in your environment, thus leading to a more spacious mind? Take whichever area of your life that feels complex, and see how you can simplify it. The result will be better health and well-being.

---
Gemini:
You can have too much of a good thing as this week you might need to guard against some form of excess. That could mean not overdoing something physically or emotionally or not taking unnecessary risks. If you find yourself feeling wired and restless, take this as a sign that you need to ground yourself; otherwise, you could end up with a bout of nervous exhaustion. Focus your energies on creative, social and recreational pursuits, but remember to factor in some time when you can come back to center. As the New Moon forms in your zone of authenticity, you have an opportunity to switch off the constant running commentary in your head and let your heart guide you forward.

---
Cancer:
If you have tension in your world, perhaps the answer is to revert to the Cancerian archetype and snuggle up at home. With a New Moon at the base of your chart, you now have an opportunity to begin again in some way, especially with matters connected to your home, family and personal life. This is actually a good time when you need to be nurturing yourself and less a time for pushing ahead in the outside world. However, you might sometimes feel you have ambitions to fulfill or personal issues that need solving. It could be that if you retreat a little and nourish yourself, things will magically begin to resolve themselves. Perhaps it's time to curl up in front of the fire with a cup of hot chocolate and candles burning brightly in the windows.

---
Leo:
From little things going wrong to bigger blocks and frustrations, it might seem that everything is against you, and perhaps the antidote is to get away from it all. If that's not possible, you will need to adopt an attitude of patience, tolerance and acceptance. Short journeys, communications and relations with others could be problematic, but if you can be still in your center, you might see the funny side. If you find yourself feeling overwhelmed with everything that needs to be done, take "elm essence" to help you cope. Taking some time out for yourself to come back to your center will help you stand on top of things. Perhaps the bigger lesson is to see whether your life has become too complicated. Is creating a simpler existence the way forward? The New Moon on October 16 is likely to inspire you to take action that will lead to the suggested simpler existence.

---
Virgo:
It's time to turn over a new leaf in your financial and material world as the New Moon falls in your money zone. This is a perfect time to create some kind of change, materially speaking to begin a new project, start a new job, change the way you relate to money or decide to get yourself out of debt to become more financially empowered. On a bigger scale, the New Moon could relate to your sense of abundance, from how freely you can spend and share to whether you can enjoy the simple things such as time spent with a friend or basking in a beautiful sunset. Some of life's treasures are free and available to you now, and perhaps the New Moon is giving you the opportunity to see and experience the fact that not everything is measured in financial value.

---
Libra:
With a New Moon in your sign on October 16, this time is very much about you and what you want, but again there is a high degree of tension that could make it difficult for you to either be totally clear about what you want or to bring it into being. Some kind of block or impediment could appear to thwart your progres and once again your home life and relationships could be the source of frustration. Money and material matters could also figure into the equation. Do your best to resolve any conflicts that emerge, but remember that your first responsibility is to yourself. If you're not happy, it will be difficult for those around you to be joyful.

---
Scorpio:
This might not be the easiest week you've ever had, and the answer might be to get away from the source of the problem and focus on maintaining your composure. Part of that might involve accepting that this is a battle you can't win or a problem you can't immediately solve. Patience and acceptance might be the only ways to get through the power struggles or impediments of the week's events but if you focus on creative transformation, you can – if you are very astute, controlled and disciplined – manage to end the week in a place of success.

---
Sagittarius:
This week, you could find yourself caught in the crossfire as Mars and the Sun square your ruling planet, Jupiter. The danger is that you could either bite off more than you can chew, leaving yourself feeling stretched or overwhelmed with things to do, or act impulsively, which could lead to problems of a different nature. A little restraint is required this week, so when someone asks if you'll do one more thing when you're already stretched, try saying no. If you're tempted to get involved with a drama, perhaps it would be better not to. If you feel inclined to deliver a harsh truth, maybe a little restraint would have a better effect. You have much energy, power and opportunity at your disposal right now. Will you use it wisely?

---
Capricorn:
With the Sun in the success region of your chart, you'd benefit from focusing on your ambitions and desires for your future, but distractions, impediments or frustrations could get in the way of what you want to do, largely in the form of conflicts, power struggles and issues going on at home or with family members. Either way, there looks to be a lack of harmony around you which you can ease by refusing to be drawn into conflicts. If that's not possible, try to see whatever is going on as a challenge that can strengthen you. Sometimes life isn't easy, but challenges and difficulties build and strengthen character.

---
Aquarius:
Life has an adventurous theme at present, making this a good week to spread your wings as the New Moon brings the potential for new beginnings in terms of what you believe is possible. It's all too easy to get stuck in a rut where your everyday life and routines can, over time, make your perceptions and confidence shrink, but this week, you should find opportunities to broaden your horizons and see or experience life in a new way, even if it's something small. You might have to challenge a mental block or a rigid viewpoint, though, to get there. Any negative thinking or complacency needs to be challenged this week to help you break out of something that has perhaps been limiting you for some time.

---
Pisces:
Is there something in your life that needs to be shed or transformed? Sometimes it's difficult to know whether it's time to let something go or whether it can be transformed into something better. Usually your feelings will tell you, so trust your gut this week in any situation but particularly when something feels tired, heavy, emotional or restrictive. If you feel the situation could work in your favor if you change it, then do so, but if it feels like you'd be better off without it, then have the courage to let it go. You might find that the universe decides for you, in which cse just go with it, and trust that whatever unfolds does so with good reason and with your best interests at heart.
---