#Horoscope #Aries #Taurus #Gemini #Cancer #Leo #Virgo #Libra #Scorpio #Sagittarius #Capricorn #Aquarius #Pisces #Horoscope – overview of this week
The Center for the New Age is pleased to present your Free Weekly Horoscope for November 15 – November 21, 2020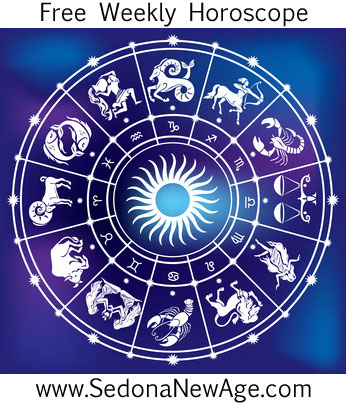 Receive our Free Weekly Horoscope in your Inbox
Aries Taurus Gemini Cancer Leo Virgo Libra Scorpio Sagittarius Capricorn Aquarius Pisces
New Moon in Scorpio on November 15 puts us in touch with a new understanding of the passionate depths of life we experience through birth sex, death and transformation. It focuses on a rebirthing process for our emotional body, and this is the time when we are sure to address the proverbial skeletons in our emotional closet. This New Moon encourages us to regenerate our hopes while transforming our fears into a courageous and renewed outlook for ourselves and to take bold steps to defeat undesirable emotional patterns and fear mechanisms.
Venus square Pluto (November 15 – November 24) usually involves difficulties such as loss or death of a loved one, and the obstacles of rejection and general oppression concerning those aspects of life to which we are undeniably attached and we hold dear. If something of this nature is occurring for you at this time, it is best to recognize that love will triumph in every dimension despite the pain of separation, or the disease and strife of the beloved. To make matters worse by denying this process of life is to prolong the pain and make worse the necessary transformation that must occur.
Venus squares Jupiter (November 16 – November 27). Our experience of beauty and affection is challenged and tested with the difficulty of attracting or acquiring prosperity. Some might say that the act of appreciating beauty is a form of prosperity in itself. Unfortunately, this aspect may create the hardship of our not being able to acknowledge beauty as a form of wealth within itself. This aspect reminds us that something more than love's blindness is required in order for us to fully realize our riches. Don't let money matters spoil the beauty of loving affection, but expect the strong possibility that this might well be the case with others.
Venus square Saturn (November 19 – November 29) creates obstacles and restrictions concerning the timely expression of love. This aspect sometimes creates blocks in the flow of care and love due to external responsibilities and restrictions that cause and create separation. No matter how much one priotizes their focuses of love, it is still like to be misinterpreted on some level during Venus square Saturn.
Venus enters Scorpio (November 21 – January 7). The planet Venus which influences matters of love, beauty, art and attraction takes us through the astrological expression of Scorpio, which brings out deep and passionate levels of care and concern. Venus in Scorpio brings out a love to and attraction to the more passionate experiences of life: birth, sex, death and rebirth, and transformation. Magnetism runs strong with Venus in Scorpio and love affairs are often torrid and well hidden. Sometimes the dark side of our love and our hidden fears surface with regard to loved ones while Venus is in Scorpio, forcing us to come clear on what's haunting us and to take strong measures to ensure a functional harmony with those whom we love.
Aries Taurus Gemini Cancer Leo Virgo Libra Scorpio Sagittarius Capricorn Aquarius Pisces
Free Weekly Horoscope for your Sign
Aries:
The New Moon on November 15 indicates a rebirth, and it is advisable to let go of anything that has outlived its use. Sometimes we hold on to situations, people, or things because they're comfortable or because we're afraid of the emptiness that their loss might leave. However, nature abhors a vacuum, and you can be sure that whatever space you create will soon be filled by something that has more vitality for you. Be prepared to let go and move on.

---
Taurus:
The New Moon in your partnership zone on November 15 is a wonderful opportunity to revamp a relationship. This might mean starting afresh, taking things to a new level, making a commitment, or resolving to leave the past behind. In general, this New Moon favors creating new beginnings and transformations in partnerships: however, with Pluto's square to Venus, things could feel intense. If a particular relationship has run its course, this could be the time to let it go. Whatever you're attached to – a person, an outcome, a need, or a desire – this New Moon is perfect for releasing it and allowing the relationship (or situation) to be as it is. The energy this week also favors developments in matters connected with money, the arts and creativity, remembering once again that transformation is the key to success.

---
Gemini:
This is the perfect week to make some changes in your work or your health and in your day-to-day life in general. Can you adopt a healthy new habit or drop something detrimental to your well-being? This New Moon also favors new beginnings in work, so maybe it's time to take on a new role or to try something new within your job. On a smaller level, you might feel inspired to become more organized, from sorting out your paperwork to creating more efficient systems of working. All in all, this is a very productive New Moon. You will feel the desire to get on with things so think about this: "The purpose of life is to matter, to be productive, to be useful, to have it make some difference that you have lived at all."

---
Cancer:
The New Moon on November 15 bodes very well for new beginnings involving creative projects, hobbies, romance, love affairs, children and animals. Choose whichever seems the most relevant to you and set a positive intention for it. The mood is playful, so try not to take anything too seriously this week; instead, just allow things to be spontaneous. If you want to take the New Moon to a deeper level – again without getting too serious – consider how you can be more of the artist of your life. Are you happy with what you are creating, or do you need to add some different colors to your palette? We are all busy writing the script of our lives; now is your chance to change yours and create a happier ending.

---
Leo:
If you are looking for a fresh start or to embrace a new beginning with your home or family matters, then the New Moon on November 15 should be rather favorable. Use this time to start afresh in some way: Feng shui your home or improve a family relationship. Alternatively, this New Moon favors leaving behind the past so that you can begin a new chapter in life. Too many of us carry baggage and issues from the past that only hold us back. Now you have a good opportunity to let something go so that you can move forward with a lighter spring in your step.

---
Virgo:
The New Moon on November 15 favors new beginnings and developments in all areas of communication making this a good week to push forward with anything connected with writing, teaching, learning and studying. Ultimately, the energies of this New Moon will enable you to change your perspective, which could result in a shift in consciousness. This is likely to be a mentally active and restless week. It might help to periodically ground yourself so that your mental energy doesn't run away with you. The worst case scenario is that you will experience a bout of anxiety, but by taking time to ground yourself in nature or to calm your thoughts via meditation or yoga, you will reap the positive elements of this New Moon. You will develop a more positive and empowered attitude.

---
Libra:
As Venus squares first to Pluto and then to Jupiter and Saturn, this could be a challenging week, one that could derail you from the positive benefits of the New Moon in your financial and material zone unless you are able to rise above personal issues. You might get carried away with intense feelings. At the same time, the New Moon on November 15 offers a new beginning in some aspect of your material life, so try to create changes in this area of your life, if possible and work toward transformation in your home or personal life. It could be a tricky balancing act, but if anyone can pull it off, you, Libra, can!

---
Scorpio:
The New Moon in your sign on November 15 is a green light in terms of your personal ambitions. Whatever you want to do will likely be successful if you begin it now as the New Moon takes place. It is time to renew some aspect of your life or to strike out for a new beginning. At least try to start something new – perhaps a project, a way of being, a new attitude or anything that feels like a step in the right direction. Mars turning direct is also good news for you increasing your sense of forward motion, making this the week to really get going.

---
Sagittarius:
The New Moon on November 15 suggests that it is time to end something, to close the door and move on. This is not a time of new beginnings but rather a time of clearing the decks in preparation for them. The New Moon also supports a deeper connection to your intuition and to all aspects of spiritual and soulful development. Your dreams might have more important messages than usual if you take the time to honor them. Maybe the veil between fantasy and reality begins to thin, making this a time to turn your hopes and dreams into something real. Trust your intuition in all matters this week, for it will be a strong guiding force.

---
Capricorn:
The New Moon on November 15 bodes well for clearing up matters connected with friends, groups and your social life in general. It is a good time to sign up for continuing education courses, join a group, or participate in a situation in which you will meet new people. It's also a good time for making new contacts and forming new associations and friendships. Conversely, this might be a time when you decide to move on from a friend or organization, as it may no longer be appropriate for you. This New Moon is likely to bring your attention to those you associate with and the roles you play in the outside world, questioning whether now is a good time to start afresh in some way.

---
Aquarius:
Now is the time to take whatever has been happening in the past couple weeks – particularly with regard to your career and life purpose – to instigate some kind of new start. In some cases, this could feel like a new chapter of life, but it might also relate to smaller (but not insignificant) changes that feel positive, productive and full of potential. The energy of this New Moon at the top of your chart on November 15 sets the scene for success and new beginnings with where you are headed in life. Use it to set a course in a new direction.

---
Pisces:
Dreams take time to cook up, so don't be in a rush to manifest things. The New Moon on November 15 is a hugely positive omen for any dream or adventurous notion that you have, but you will need to apply some discipline and patience to bring it into being. This is a good week then, to think about what you would like to manifest and to take at least one small step to getting it going. It might also help to believe in the impossible, for almost all things are possible if they are aligned with one's heart.
---