#Horoscope #Aries #Taurus #Gemini #Cancer #Leo #Virgo #Libra #Scorpio #Sagittarius #Capricorn #Aquarius #Pisces #Horoscope – overview of this week
The Center for the New Age is pleased to present your Free Weekly Horoscope for January 24 – January 30, 2021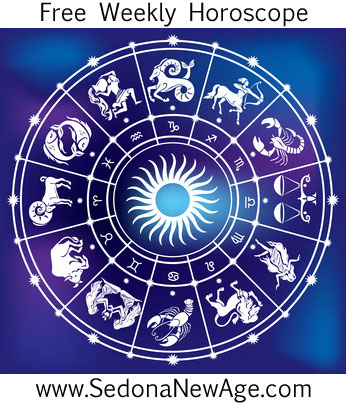 Receive our Free Weekly Horoscope in your Inbox
Aries Taurus Gemini Cancer Leo Virgo Libra Scorpio Sagittarius Capricorn Aquarius Pisces
Full Moon in Leo on January 28 brings out the dramatic, imaginative and creative side of our moods. It represents the moment of concluding a stage, reaping the fruits, and opening a new chapter in life. The Full Moon will increase our mental energy and will fragment our attention in one thousand directions, one more urgent and interesting than another. Most of us are easily drawn towards the need to find warmth and affection or just plain attention at this time. Full Moon in Leo provides opportunities to enhance and harmonize friendships and family situations in a fulfilling and enriching manner.
Venus conjunct Pluto (January 28 – February 7) represents a love or fascination at work concerning matters of fate as well as power. This is the place where the influences of love and power merge into, and may help to create a breakthrough for those who are having difficulty accepting the work of fate or higher powers. There is hope for those who acquire an appreciation for the not so glamorous aspects of existence. A lot of what seems uncontrollable these days is really in our mind and not our heart. What is in our heart speaks the truth, and the unpredictable facets of the hardships of loss or death are often brought to light with this aspect of Venus conjunct Pluto. Facing difficult power issues with loving affection gives us strength to face the hardships more easily.
Aries Taurus Gemini Cancer Leo Virgo Libra Scorpio Sagittarius Capricorn Aquarius Pisces
Free Weekly Horoscope for your Sign
Aries:
This could be another volatile week as the Full Moon is in a very explosive position. Your challenge is to be true to yourself without going over the top. Issues around creativity, self-expression, children, or love affairs could arise under this Full Moon, but much of it boils down to your need to stop compromising and start marching to your own drumbeat. Again, issues of what you value and what is most important to you could crop up. If you have been denying yourself these things, this is the week you can no longer keep pretending. Be open and honest about what you really want while trying not to tread on other people's toes in the process. Living a more passionate life could be the way forward.
---
Taurus:
This week's Full Moon is volatile and likely to affect your home and domestic life. Be mindful of this, and you might sidestep tensions before they occur. Again, you could experience issues around what you want versus what others want or with limitations currently placed on you. By adopting a loving, patient and tolerant approach, you might emerge from this Full Moon unscathed. If it doesn't pan out that way – we are all human, after all – forgive yourself and those around you who might have contributed to the discord, and work to restore harmony and order. The flower essence vervain will be very helpful for you if you are feeling keyed up, tense, edgy, overzealous in your opinions, or frustrated that others don't see things your way. Vervain can have a softening effect on any hard edges in your persona and help keep the atmosphere around you relaxed, calm and tranquil.

---
Gemini:
This might not be the most restful week, as a very volatile Full Moon occurs in a busy sphere of your chart. Expect activity, communication and life to feel a bit hectic for a couple of days, at the least. This is just how a Gemini likes things, so this Full Moon might not feel as stressful as it does for others, but bear in mind that carving out some quiet time will help you stay on the right side of sanity. This is a good opportunity to question your beliefs and general attitude to determine whether you have room to think more expansively or, conversely, more realistically, if you're prone to flights of fancy. If you find a hornet's nest being stirred up, it might be due to the frustration of not fulfilling a deeper mission or living a more adventurous life. If this is the case, identify what gives you a sense of adventure, and do that instead.

---
Cancer:
With a Full Moon in your zone of money, you can expect some clarity or completion connected with finances or a material situation, but given the stressful nature of this Full Moon, it might not be the easiest passage, and you might be required to let something go. Sometimes we have to ask whether something is really worth the struggle, and this could be one of those times. Jupiter and Saturn are encouraging you to embrace a new way of doing things, especially where joint finances of your wealth are concerned, so be willing to move on, if that's what is needed.

---
Leo:
With a volatile Full Moon in your sign, this is likely to be a dramatic week. It will challenge you to keep your cool, especially where other people or your work life are concerned. You might sense a clash between what you want and the needs of others while you also feel the need to change your course in some way. All this is likely to make you feel pressured, but the good news is that the Full Moon – although it occurs at the end of the week – should bring some clarity and you end the month with a better idea of what you need and where you are going. When feeling trapped, sometimes the only solution is to hold the tension of opposites. If you do things that bring you pleasure and joy to counterbalance the tension, you will return to your tasks and challenges with greater confidence and a stronger coping ability.

---
Virgo:
Expect something to come to light under this week's dramatic Full Moon in your zone of secrets and the unconscious. It could be something quite revelatory that helps you see an issue more clearly, or it might be something you'd prefer to stay hidden. The planetary energies need transparency this week, so don't fear the truth coming to light. The Full Moon is also likely to heighten your connection to the psychic realms, making this a good time to trust your feelings and act on your intuition. Messages and guidance might come through dreams or from sudden urges to do something. Your body will also communicate messages to you through subtle impulses, butterflies in the stomach, or increased energy, for example. Watch for signs, act on them, and you will likely be guided to make the right choices during what will be a rather chaotic and uncertain week for most people.

---
Libra:
While you might have a strong sense of what you want, a part of you might be afraid or believe it's too much bother and things won't work out. Any excuse might be holding you back. The Full Moon will likely make you aware of what you wish for – but with a price. There is always a price to pay for something you want, so the question is whether you're willing to pay for the hope, wish, or dream that resides in your heart. On closer inspection, you might realize that you will pay a far higher price for not acting on your dream.

---
Scorpio:
Some bumpy moments could occur this week as a dramatic Full Moon creates plenty of sparks. The challenge will be to stay on an even keel, especially where your home, family, relationships and direction in life are concerned. Clashes in these areas – from disagreements with others to challenges at home – could occur when you feel the need to focus on your future or career. Although the time around the Full Moon is likely to be dramatic, it should at least be short-lived. It might help to remember that the planets tend to bring out what lies dormant within, so if you are acutely aware of what is happening within, you will react with greater equanimity to the events of the week. Your mission is to create domestic integrity and manifest proactive changes in your relationships. This week's events could bring you opportunities to do this.

---
Sagittarius:
An adventurous spirit is the key to your success as the Full Moon makes this a week to push out of your comfort zone to entertain new possibilities. You are likely to feel a surge of optimism, but this might be countered by difficult circumstances, perhaps in your daily affairs, work, health or general well-being. If one of these areas is causing an issue, now would be a good time to take action and make a creative change, even if that ruffles a few feathers. As the saying goes, you can't make an omelet without breaking a few eggs, and that is precisely the kind of approach you will need to move through the challenges of your current situation. Try not to be overly rebellious or controversial, though, because this could create unnecessary stress or chaos. Focusing on dynamic change with faith and optimism should produce the force you need to challenge any opposition and break through to the other side.

---
Capricorn:
A highly volatile Full Moon in your psychological zone suggests that something has to give. The more in tune you are with your psychological motivations, the easier this week will be. Even with the best will in the world, you might not be aware of your programming, so you need to go easy on yourself if you act in a way that takes you and others by surprise. The key is to let go or allow some situation to die or transform. Perhaps whatever issue or situation has been going on since the start of the year will reach a peak toward the end of the week, and this is your cue to let go and release all you cannot control. The more you can relinquish control, the more you will end the month with a sense of catharsis.

---
Aquarius:
Another intense and unpredictable week beckons, but it's worth reminding yourself that out of chaos comes order. Whatever is happening in your world now most likely needs to happen to take you to a better place. The journey to that better place could be tough or pleasant depending on your current circumstances. Try to keep your focus on your destination, remembering the importance of honoring your needs. Make the effort to restructure your life in ways that will lead to success and improvement. Don't be afraid to make or embrace changes in your personal life. Your family, home and relationships might seem to be the source of your problems, but remember that something new is trying to make itself known, and that can't happen if you cling to what has been.

---
Pisces:
A very volatile Full Moon will likely draw your attention to either your work or your health, and your well-being might need to be your priority. Bear in mind that mental and emotional states can have big impacts on the physical, so if you're under the weather at all, consider whether you feel stressed or your nervous system is being weakened by too much excitement, busyness, or stimulation. If so, use this week to bring yourself back into balance. You will soon be restored if you focus on creating order in your life. For example, follow healthy routines, listen to uplifting or relaxing music, and change your thinking to be more positive.
---