#Horoscope #Aries #Taurus #Gemini #Cancer #Leo #Virgo #Libra #Scorpio #Sagittarius #Capricorn #Aquarius #Pisces #Horoscope – overview of this week
The Center for the New Age is pleased to present your Free Weekly Horoscope for February 21 – February 27, 2021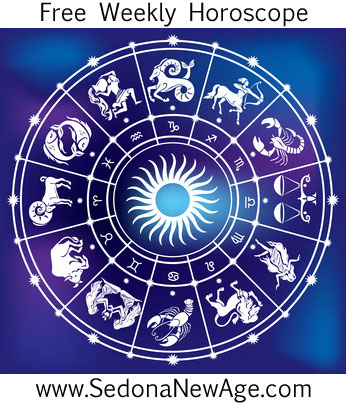 Receive our Free Weekly Horoscope in your Inbox
Aries Taurus Gemini Cancer Leo Virgo Libra Scorpio Sagittarius Capricorn Aquarius Pisces
Mars trine Pluto (February 24 – March 12) is a time when discerning, cautious and practical action leads to positive, monumental and powerful transformations. Actions taken now are more likely to have favorable results or to be influential with higher powers. This is a good time to resolve personal aggression directed towards the views and differences of another generation or established powers. This aspect brings opportunity for favorable direct action that may well make a powerful and impressionable impact. Mars, the god of war and Pluto, the underworld god (or hellraiser), may actually be reaching some favorable kind of truce when Mars is trine Pluto.
Venus enters Pisces (February 25 – March 21) where the planet of love, magnetism and attraction will be placing our desires and attention on Pisces related talents and practices over the next few weeks. Music, poetry, the arts, psychic phenomena, spiritual and religious practices will all be endearing attractions and lively pursuits now through March 21st. Venus is the feminine planet of love and Pisces is an extremely feminine, dreamy and spiritual expression being animated by the love force of Venus. Love endeavors will emphasize passivity, tenderness, sensitivity and the need for a gentle approach towards love''s expression.
Full Moon in Virgo on February 27 reminds us of the need to organize, analyze, and constructively criticize our health and cleanliness practices. Virgo also puts the focus on handling all of life's mundane necessities. Virgo Moon energy purges and purifies our surroundings with sound resourcefulness and simple logic. Virgo rules the intestines of the body and represents the process of elimination. This is an excellent time to focus on eliminating toxins and purifying the body. This is also a good time to purge the useless, destructive or outmoded habits of our life. Celebrate your existing health and do something good for your body on this Full Virgo Moon.
Aries Taurus Gemini Cancer Leo Virgo Libra Scorpio Sagittarius Capricorn Aquarius Pisces
Free Weekly Horoscope for your Sign
Aries:
The Full Moon brings health and replenishment into sharp focus, so if you've been burning the candle at both ends, you will definitely feel the need to recuperate. Sometimes you need to recuperate emotionally or psychologically to prevent damage on the physical level, so don't wait for a bout of exhaustion or physical aches and pains. A little solitaire could be restorative now, as could any soulful activities such as mediation, art, dream interpretation or tuning in to your intuition. Your connection to the divine could be strong this week, which can strengthen your body and mind and act as an inner compass showing you the way to go.
---
Taurus:
Pay attention to your intuitive feelings this week, especially around the Full Moon on February 27. If you get a feeling to call someone, do so. If you feel compelled to take a certain turn while travelling, even if it seems to not be the right road, take the turn. We have all experienced our logical minds over-riding feelings or impulses to do something and then later kicked ourselves when we realized our intuition was telling us something to our advantage. If you keep acting on your hunches, you might find that your life becomes magical and effortless: you are always in the right place, at the right time, with the right people, and doing the right things.

---
Gemini:
As the Sun moves into your success region, this is a good time to push yourself forward. Promote yourself, if that's appropriate, or allow yourself to shine in the outside world. The Sun-Venus alignment in this area bodes well for something auspicious or pleasant happening in your professional life or with your direction in general. The Full Moon on February 27 occurs in your zone of home and family, so your focus for a day or two needs to switch closer to home. Take care of your needs and the needs of those nearest to you. Getting the balance right between work and home could be the purpose of this Full Moon, but change might be necessary to move things forward or refresh stagnant energy that's holding you back. If you're not sure how to liberate yourself from being stuck, start by clearing clutter in your home and raising the vibration of your environment.

---
Cancer:
The Full Moon on February 27 once again asks you to look at how you might be seeing a situation and whether there might be a more expansive view. You get used to seeing things a certain way and making judgments, but only your thinking makes something either good or bad. Under this week's Full Moon, enhanced by Venus, life will seem rosier, and you'll have an easier time attracting good things. Seeing the good in all things and enjoying moments of adventure will lead to an expanded state of being where you realize anything is possible in this moment.

---
Leo:
With a Full Moon in your money zone on February 27, this is a week to deal with financial and material matters, and things will likely become clearer toward the end of the week. This is a good time to bring things to completion and share what you have. Venus and the Sun opposing the Full Moon suggests you could experience much contentment and happiness if you open your heart and give to others. This is not a week for grasping or focusing on ownership even if that feels tempting. Perhaps the answer to any dilemma is to let go with love. You might be surprised what comes back.

---
Virgo:
As the Sun aligns with Venus in your relationship zone, you are in a favorable position to enjoy time spent with others. The Full Moon on February 27 is likely to bring some clarity or resolution to a relationship issue, particularly if you are able to offer love and compassion. It's easy to fall into judgment or anger, but the situation now calls you to open your heart and be more loving. The results could be pleasantly surprising.

---
Libra:
The planets are now evenly split between doing whatever your heart desires and being a good and dutiful person. This could result in a certain amount of inner conflict, and perhaps the answer is to love what you do for others. You might focus on healing or helping others (a strong healing theme is in your chart right now), or it could mean demonstrating your love and compassion to others through your work or your daily activities. Either way, there is a connection between service to others and your happiness. What do you love doing that could help other people? What gifts and talents do you have that could inspire others? Putting love into what you do for others is the key to your current success and well-being.

---
Scorpio:
After the intensity of recent weeks, the Sun aligns with Venus in your house of fun, bringing a much lighter vibration and a more carefree feeling. This would be good for you to embrace, as too much seriousness isn't good for anyone. As John Wanamaker said, "People who cannot find time for recreation are obliged sooner or later to find time for illness." Think of recreation not just in terms of hobbies but anything that allows you to '"re-create'" yourself. Indulge your senses and take time to savor simple pleasures, or hang out with fun people. With a Full Moon in your social zone on February 27, the end of the week will indeed remind you that getting out and being with like-minded people is the cure for most ills.

---
Sagittarius:
The Sun's move into your domestic zone slows the pace of life and invites you to savor simpler and cozier pleasures. What can you do to increase happiness and delight at home? Can you improve the decor and make your space more beautiful? Does a nourishing environment for you mean a candle on the table at mealtimes, a fire burning in the hearth or healthy meals prepared with love? Even though the Full Moon on February 27 will pull you toward the outside world, such as work or other responsibilities, your home and family offer the greatest support and joy this week.

---
Capricorn:
The Sun's arrival in your communication zone alongside the lovely Venus, will doubtless inject a certain joie de vivre into your thinking and have positive repercussions for every area of your life. Try to embrace this increased positivity by accepting that everything is as it should be, and grow your pleasure and delight in the world around you. Such a rosy outlook will lead you to the right place, at the right time, and with the right people on a more regular basis. The more confident, playful and positive you are, the more life will yield positive results. All other things being equal, this week should mirror your glowing state of mind.

---
Aquarius:
Mercury turning direct in your sign this week is good news. You can return to some sort of normality and feel that things are easing and moving forward again. The Sun's move into Pisces will remove some of the intensity and pressure, turning your focus to your material situation so that you can now work on a financial issue to a successful resolution. Perhaps this is the time to focus on manifesting more abundance, whether financially or as a general feeling of plenty. This state of abundance could offset feelings of frustration, as Saturn's square to Uranus is likely still causing snags with your personal, domestic, or family life or your inner needs. Let go of the need to control things, and focus on doing exactly what needs to be done. Being productive now is the way forward.

---
Pisces:
As Venus joins the Sun in your sign, life should take on a rosier hue. This alignment gives you permission to enjoy yourself and indulge in a little pleasure. Sometimes the cause of a bad mood is not giving yourself enough self-care, so schedule a massage, book a romantic night out, or watch a play. If none of these activities are viable, find ways to indulge your senses, and remember that being alive is a gift. Being a little hedonistic from time to time is perfectly okay; it's sometimes the best prescription when life feels a bit flat and gray.
---