#Horoscope #Aries #Taurus #Gemini #Cancer #Leo #Virgo #Libra #Scorpio #Sagittarius #Capricorn #Aquarius #Pisces #Horoscope – overview of this week
The Center for the New Age is pleased to present your Free Weekly Horoscope for March 7 – March 13, 2021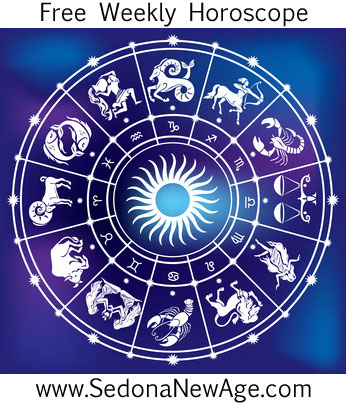 Receive our Free Weekly Horoscope in your Inbox
Aries Taurus Gemini Cancer Leo Virgo Libra Scorpio Sagittarius Capricorn Aquarius Pisces
New Moon in Pisces on March 13 focuses our attention on the need to get in touch with our own beliefs and to inspire those beliefs with devotion and renewed faith. Tendencies towards escapism may be strong particularly for those who are unwilling to let go of the past. The New Moon in Pisces inspires a new outlook on our moods. This is a time of both emotional as well as spiritual purging. The spirit of what is now emerging and showing through our moods is a sense of renewed faith, in something divine and omnipotent.
Venus is conjunct Neptune (March 13 – Marc 23). These two very feminine planets are aligned as a higher and lower octave of each other, creating a very fluid and open expression of femininity. Venus represents love, magnetism and attraction, while Neptune (the higher octave of Venus) represents spiritual love and the melding of spiritual energy. Venus conjunct Neptune can be utilized to reach a high vibration of feminie, spiritual love. This is an ideal time to connect with one's own guardian angel and spirit guide.
Aries Taurus Gemini Cancer Leo Virgo Libra Scorpio Sagittarius Capricorn Aquarius Pisces
Free Weekly Horoscope for your Sign
Aries:
The New Moon in your soulful zone on March 13 invites you to gently let go of a situation or close a door on the past so that you can prepare to move toward new beginnings. If you feel stuck or are finding it difficult to let go, you might need to remind yourself that there is always a divine plan at work. By trusting in these higher process, you should find it easier to relinquish what no longer serves your growth. Letting go of karmic ties with love and forgiveness could also be appropriate, as holding on to people can be just as damaging as hanging on to situations or things. The more space you can clear, internally and externally, the more easily you can move into a new phase. If you can recognize endings and new beginnings as a theme in your life, go with the process and trust that all is unfolding as it should.

---
Taurus:
The high-vibrational New Moon on March 13 falls in your social and friendship zone, making this the perfect time to turn over a new leaf with a friend or create a new beginning with a group or organization. Inspiration will most likely be found through friends, groups, clubs and societies, and aligning yourself with the values of like-minded people and organizations is important now. Your challenge (or invitation) is to be part of something, especially something you believe in or that inspires you and into which you can channel your unconditional love. Now is the time to implement a dream, wish, or a vision and to join forces with others who share that vision.

---
Gemini:
Destiny calls this week as a New Moon aligns with Neptune and Venus in the vocation area of your chart. This is a perfect opportunity to take a step in a new direction or simply allow fate to carry you toward your destination. Don't resist whatever happens this week; simply go with it, knowing a hidden design might be at work. The power you have lies in letting go of developments of the past or not trying too hard, and instead being very soft, flowing and accepting in your actions. Starting fresh in your career/vocation could be appropriate, but you might have to keep telling yourself that what is for you won't pass you by.

---
Cancer:
The New Moon on March 13 invites new possibilities, so this is a good time to embrace what you have not tried before. If life feels a bit like an experiment at present, then so much the better; playing it safe right now and sticking to the tried and tested will not feel very satisfying. Something is urging you on to new pastures, and now you need the courage to lose sight of the familiar. There are no guarantees in life, but the only things you're likely to regret at the end of your days are the things you didn't do. Teaching, studying, learning, travel, adventure, publishing, higher knowledge and wisdom-seeking are all areas in which you can now be successful, and they all have one thing in common: breaking out of old routines and paradigms.

---
Leo:
With the New Moon in your zone of transformation, surrender is the likely answer to any difficulties. Something, it seems, needs to go. This could be emotional baggage, a karmic tie, an unhealthy situation or a pile of clutter in your house. If you've been holding on to something that isn't doing you any favors, this New Moon will help you gently release it with compassion and forgiveness. This could be a very healing and therapeutic week, especially at the end of the week when the energies are very powerful for releasing the old and surrendering to a process you might not yet be able to understand but will reveal itself in time to support your best interests. Prepare to shed your old skin and rise like the phoenix from the ashes.

---
Virgo:
A beautiful New Moon in your relationship zone makes this a good time to look at your relationships and start fresh. This could range from meeting someone new to letting go of someone with love. New commitments can be made, so long as they are made with kindness, compassion and acceptance for whatever will be; rigid rules, shoulds and shouldn'ts will not work now. If you feel you're losing yourself in another person, that might not be such a bad thing, since part of the purpose of Neptune's conjunction to this New Moon is to allow you to drop your ego and experience the oneness that can arise from a feeling of true intimacy.

---
Libra:
Setting out to do good just to feel happier is counterproductive, but if you have something you can share with others – perhaps an artistic talent, a healing gift, a practical ability or useful knowledge – your happiness can be a natural byproduct of your willingness to serve. As the New Moon aligns with Neptune and Venus in your zone of service, ask yourself how much you are giving to others. Do you help or inspire people? Libras were never cut out for a selfish existence, and now, more than ever, the universe is calling you to do what you can to ease suffering.

---
Scorpio:
A beautiful and soulful New Moon occurs in your zone of fun on March 13 bringing the opportunity to step into a lighter, more colorful phase of your life. Now is your chance to create more joy in your world, perhaps by focusing more on the things that give you pleasure. Life is serious enough and you have to make an effort to relax, have fun, and play to restore your depleted spirits. Make time for recreation, creativity, games and fun, but on a deeper level, this New Moon reminds you that as the artist of your life, you get to create or change the script currently playing out. Your clue to how to change it can be found in those times when you feel inspired or divinely connected.

---
Sagittarius:
The New Moon in your domestic zone this week is a good omen for turning over a new leaf within your home or family, and the key might be to let go with love. The other aspect of this New Moon could be to bring inspiration into this area of life, so now would be a good time to redecorate, move your furniture to create a more pleasing dynamic, or make other changes that inspire you. You and anyone who shares your space can absorb that inspiration and go into the world and make it a better place. As Winston Churchill said, "We shape our dwelling, and afterwards our dwellings shape us."

---
Capricorn:
Inspiration could reach dizzying heights as a beautiful New Moon occurs in your mind zone, opening doorways to extra sensory perception and connections with the Divine. Any form of communication such as writing, teaching, speaking, lecturing, and so on, will be very much enhanced right now, so this is the week to put pen to paper or pick up the camera to communicate how you feel about the world. If you have a message you want to impart, now is the time to express it, either verbally or creatively.

---
Aquarius:
With a New Moon in your material zone, this is the perfect opportunity to start fresh in financial matters and wipe the slate clean on some aspect of your material world concerning your work, income, thoughts and beliefs around money, or what you value. For example, it might benefit you to gain clarity on your top values (money, freedom, beauty, security, creativity, health, or family etc.) and make sure you're living in alignment with those values. If you're not, then now is the time to make some changes so that your life matches what you hold in high esteem.

---
Pisces:
A beautiful New Moon occurs in your sign this week inviting further new beginnings, so this really is the time to be moving forward in some way and embracing all that is beautiful and soulful. In a world that seems to be under tremendous stress and breaking down, your sign is blessed with openings for spiritual wonder and inner peace, so make the most of whatever pleasant states you find yourself in, even if they run counter to the current state of affairs in the external world. You can keep your frequency high by making time for meditation, art, beauty and other soulful practices that connect you with the Divine. This is the biggest challenge and gateway to living life on a higher plane.
---