#Horoscope #Aries #Taurus #Gemini #Cancer #Leo #Virgo #Libra #Scorpio #Sagittarius #Capricorn #Aquarius #Pisces #Horoscope – overview of this week
The Center for the New Age is pleased to present your Free Weekly Horoscope for March 28 – April 3, 2021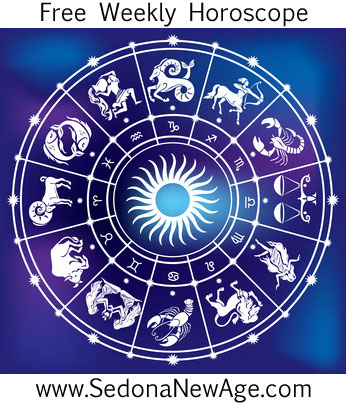 Receive our Free Weekly Horoscope in your Inbox
Aries Taurus Gemini Cancer Leo Virgo Libra Scorpio Sagittarius Capricorn Aquarius Pisces
Full Moon in Libra on March 28 brings events that revolve around such things as law, the justice system, friends and marital partners. Use this Full Libra Moon energy to empower your relationships. Diplomacy, peace and goodwill can be achieved but a definite effort is required.
Mercury conjunct Neptune (March 29 – April 6) brings out communications on the hypersensitive issues and matters concerning people's belief systems and domains of spirituality. Mercury is always the voice and the informant. When Mercury conjuncts with Neptune, it is best to learn from the talk and the news that goes around us concerning humanitarian topics. This aspect also represents a good time to pray, meditate, connect with the higher spirit within, and have a talk with God.
Venus is sextile Saturn (March 30 – April 16). Venus emphasizes the vibrations of love, magnetism, beauty and also sensuality. This aspect often provides an opportunity to attain desired objects. Saturn's influence emphasizes the awareness of time, limitations and restrictions. It also harnesses our dedication to responsibility and discipline. The sextile aspect allows for greater opportunity to stand on guard favorably and be protective in a way that will be easily understood. This is the time to take the opportunity to protect what we love with guidance and nurturing.
During Mercury sextile Pluto (April 2 – April 6), communications and discussions are enhanced with an opportunity to make a breakthrough in negotiations with a strong power. Information and news at this time will be noteworthy. This serves as a good time to reach out to those of another generation and make an attempt to communicate something vital.
Aries Taurus Gemini Cancer Leo Virgo Libra Scorpio Sagittarius Capricorn Aquarius Pisces
Free Weekly Horoscope for your Sign
Aries:
There are times when you drift off course, and this is a time when you can get yourself back on track if you listen to your needs. Things are steadily charging ahead especially under the Full Moon on the 28th, and that's for the best, especially for you. The way to the top becomes more difficult, but as they say, "no pain, no gain. You are on a winning streak, but that doesn't mean you can sit back and put your feet up. Take initiative, keep looking ahead, and the stars will help you at every turn!

---
Taurus:
Your health and well-being become the focus under the Full Moon on March 28. This applies as much to your mental and emotional health as to your physical health. Your spiritual understanding and growth will help you understand your issues. Get yourself right spiritually and things will take care of themselves. You'll have to adapt to an ever-changing world, overcome obstacles and work tirelessly to meet your goals, but it will all pay off in the end.

---
Gemini:
This is a good week for healing a relationship, particularly with a friend. The key to healing this situation could be forgiveness and realizing that relationships are mirrors for your wounds. New opportunities are on the horizon. On the other hand, new problems are starting to crop up. In any case, there is no way back – there is nowhere to go but forward. In your work environment, you may have both allies and assistants right now, but at some point, they might become your friends, or benevolent and high-ranking supporters. By working together when the time comes, you will move mountains!

---
Cancer:
The Full Moon at the base of your chart on March 28 highlights the areas of home/family and work/vocation. You might have some healing work to do in either of these areas, perhaps letting go of blocks, fears, wounds or feelings of not being good enough, but actually, you need to replace anger with others with kindness. After some recent stresses, you have an excellent opportunity to stabilize your position and you can't let it pass you by this week.

---
Leo:
Your health continues to need some attention. You still have three long-term planets in stressful alignment with you. However, the stresses of the short-term planets have moved away but your loved ones are facing real problems and may need your attention and care. If you are driven to the very limit, then at least get enough sleep which will let you regain your strength, as you may need a lot of it dealing with situations that could arise with Covid still in the air.

---
Virgo:
This is a good time to focus on projects involving personal transformation and reinvention. Most likely you won't complete these projects in a month – these things take years – but you will make progress and should begin right now especially with the energy of the Full Moon to assist you in your endeavors. These results will not be overnight – the hardest part is getting started. In all cases, you will be able to count on close friends or partners – their help will be effective and material as well as moral. This might give you new perspectives and also give you some relief from any stress you might encounter.

---
Libra:
By reaching out to another, you could witness a breakthrough in your personal life this week. The Covid virus makes it more difficult, but love opportunities can happen at school or school functions, at your place of worship or religious functions, at lectures, seminars, libraries and bookshops – wherever people are allowed to congregate. People at your place of worship can be playing cupid. Romance can happen, or can be furthered, in individuals from foreign lands. Foreigners in general attract you. It seems your dark days are over and the Full Moon is bringing you brightness and color.

---
Scorpio:
You are feeling freer and more adventurous this week. Your reactive approach and out of the box thinking are letting you handle everything that has been thrown at you. Jupiter, your financial planet is still near Saturn but not as close as he was in the past. Earnings come faster and you have less financial fear. Family support is good – but probably comes with strings attached so you might very well see major developments at home and in your families that need your attention.

---
Sagittarius:
Mars is still in your 7th house (House of Partnerships) and if you can avoid power struggles with the beloved, love will be okay, especially with the positive influence of the Full Moon on the 28th and Venus sextile Saturn until the middle of April. Your loved ones play an important role in your life and your spouse, partner or current love needs to be more mindful on the physical plane and needs to watch his or her temper. Maybe a short term therapy session wouldn't be a bad idea for you and your loved one to share.

---
Capricorn:
Your health may need a bit more watching. There is nothing serious going on, it's just the temporary stresses caused by short-term planets. A good way to enhance your health is with foot massage and through spiritual-healing techniques. Spiritual healing is especially powerful from the Full Moon to the 31st. If you do feel under the weather, see a spiritual-type healer. Your personal life is settling down, though you can't say it's exactly quiet. If you are experiencing problems with children, this may involve some expenses, but these problems are not quite so serious and will get easier as the new month progresses.

---
Aquarius:
Right now, everything or close to it, is under control. With your love planet Venus in Aries, this week you realize you have become a "love at first sight" kind of person. Do you jump into relationships too quickly? Maybe, this is a period for developing fearlessness in love. If things don't work out, you will pick yourself up and jump back into the fray. So long as you've conquered the fear, you're in an okay place. Your energy and optimism are not only exemplary, but a source of joy for everyone around you. Keep it up!!

---
Pisces:
You can expect some positive changes in your personal life due to the fact that family and family connections are now important to you financially. Sales, marketing, advertising, PR, trading, buying and selling now have good family support. This week, chaos, confusion and various types of intrigue have come to an end either entirely or in part under the positive influence of the Full Moon and will continue into the new month, this time in your favor. Look toward the future with careful optimism, and plan things out well.
---