#Horoscope #Aries #Taurus #Gemini #Cancer #Leo #Virgo #Libra #Scorpio #Sagittarius #Capricorn #Aquarius #Pisces #Horoscope – overview of this week
The Center for the New Age is pleased to present your Free Weekly Horoscope for May 9 – 15, 2021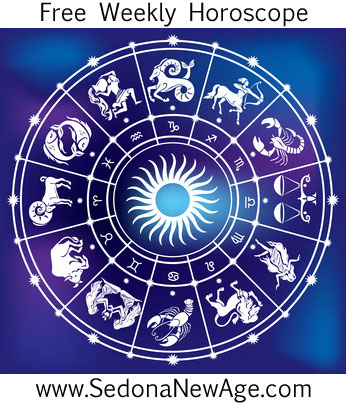 Receive our Free Weekly Horoscope in your Inbox
Aries Taurus Gemini Cancer Leo Virgo Libra Scorpio Sagittarius Capricorn Aquarius Pisces
Venus, the influence of love, magnetism and attraction, enters Gemini, the personification of duality( May 9 – June 2). There is an attraction towards the need for variety and more than one avenue of expression with regard to affection. Subtle and playful love comes with words. Love matters are submerged in thoughts and mindful observations. Venus in Gemini will create an attraction to writing, speaking on and recording extraordinary love experiences.
New Moon in Taurus on May 11 emphasizes the acquisition of new possessions, or it could mean there is a need to restore, replenish and maintain the old ones. Personal contentment can be found in possessions Search for the value of what you need and want. This serves as a good time to clean the bad energy off misguided objects of power. The Moon is exalted in Taurus and calls to us to enjoy the beauty that surrounds us, turn down the noise and go enjoy nature!
Mercury trine Saturn (May 12 – May 18) brings favorable discussion with regard to where to draw the lines. This is a good time to make an impression, to teach and to communicate to others those important matters requiring clarification. News with regard to the end of a long and arduous task brings relief.
Jupiter enters Pisces (May 13 – July 27) bringing mysterious, open-minded and faith driven solutions to economic problems. This is the time to persevere through financial shifts with a bubbling wealth of joy and appreciation for what we have. Jupiter in Pisces is the place where fortune is found in artistic talent and wise counsel. Those who recognize the spiritual nature of wealth know that our ongoing economic shifts and volatile changes do not have to rob us of our understanding of what truly makes us prosperous. This aspect brings joy and expansion through our abstract attempts to feel out, or intuit, the course of our true need in the economy of the future. It is in this time of Jupiter in Pisces that we will empower our vision to bring a better economy through our ability to let go of the things we've lost and to embrace, or re-invent, an entirely new economic focus.
Aries Taurus Gemini Cancer Leo Virgo Libra Scorpio Sagittarius Capricorn Aquarius Pisces
Free Weekly Horoscope for your Sign
Aries:
With a New Moon in your money zone on May 11, it's time for a fresh start in your material life. This could range from changing your job, starting a business, or making money from a hobby. This aspect could also affect the more technical side of your material life, such as pensions, insurance and how your money works for you. Whatever your current situation, this needs to be a time of change. Just because you've always done things a certain way doesn't mean you have to keep doing them that way. If your soul is calling you toward a different way of working, living or earning, it is time to pay attention.

---
Taurus:
The current planetary activity – not just now but throughout the year – is all about making headway in the world, which could require you to pull yourself out of any comfortable ruts and head toward something new. With Saturn's square to your sign, this won't always be easy. You might feel at times, like giving up or settling for what you have, even if this leaves you feeling unfulfilled. In some area of life, at least, you need to be awakening while at the same time striving to become a master. The New Moon in your sign on May 11 will enable you to make the necessary changes and to start over, if necessary. At the very least, use this New Moon to instigate some kind of new beginning.

---
Gemini:
The New Moon on May 11 is a good opportunity to wipe the slate clean, particularly with a matter of the past or with what's been buried or suppressed. Looking back, you might see that you have applied tremendous energy to keeping a skeleton locked in its closet. This is never healthy, as all that energy could be better spent on living your life. Whether the skeleton is boredom, fear, shame, guilt or desire, perhaps you should welcome it with open arms and rejoice that you are able to live more openly and honestly.

---
Cancer:
The New Moon on May 11 in your social zone invites you to start fresh with friends or groups. For example, it might be time to join a new group or leave an organization. Or maybe the time is right to start over with a friend or make new contacts and connections that could help you move forward or plant the seeds for a new friendship. If you have a hope or a dream you want to begin, now is the time, but remember that you will probably need other people's help to bring it into reality. Ultimately, this is a week to focus on your future. Take some small steps to make it what you want it to be.

---
Leo:
Prepare for a new beginning in your career, vocation or direction in life. A door could open or an opportunity could occur to begin something new. On a smaller scale, this is a good time to start a new project or think about what new thing you would like to begin. The only block or impediment to your moving forward relates to someone else. You might feel responsible for someone, which makes it difficult for you to press on with your ambitions or desires, or someone might be holding you back in some other way. There might be little you can do about this, as it could be a karmic situation, so do your best to fulfill your obligations to another while striving to accomplish your creative aspirations. Try to find a balance this week between the other's needs and your need to press ahead.

---
Virgo:
If you play it too safe and regularly err on the side of caution, you run the risk of limiting your options and closing the door on a world of adventure. With a New Moon in your zone of possibilities this week, it is time to move toward something that gives you a sense of meaning or expansiveness. Although the world might try telling you otherwise, you have nothing to gain by playing it safe now, and the more daring you can be – in thought and action – the better. Perhaps it begins with a tiny dream or a thought that says, "Maybe." Take whatever seeds of possibility form in your mind, and nurture them as you might a small child or a tiny plant.

---
Libra:
The New Moon and Uranus are currently in the area of your chart that can best be identified as power. Whether you believe you have a lot of power or very little, try to surrender to what is rather than try to have dominion over it. You have a real opportunity now for a rebirth or transformation. If you can let go and move toward whatever is calling you or trying to make itself known, you will emerge rejuvenated and with a more genuine and lasting feeling of power as in this quote by Sufi Master Inayat Khan: "There can be no rebirth without a dark night of the soul, a total annihilation of all that you believed in and thought that you were."

---
Scorpio:
This week is a perfect time to turn over a new leaf in an important relationship or to change the way you approach partnerships in general. This is very much a time of change in your personal life, and it's important to know that being a little unconventional is sometimes what's needed. In other words, don't feel you have to stay with the tried and tested or do things the way other people approve of. What will work best for you now in your personal life is a willingness to experiment, perhaps by changing the role you play or by seeking a different kind of person than your usual type. Either way, the New Moon bodes well for new beginnings in love and commitment, especially if you're willing to change.

---
Sagittarius:
If you need to start fresh in your health, work life or daily life, the New Moon on May 11 will facilitate these changes. Start a new healthy habit, or get on top of things at work or home by being more organized. This is a good time to clear your office clutter, get rid of backlogged emails and paperwork, and create a fresh space. Contemplate how your life is working, and if there is room for improvement, consider the following: "The secret of your future is hidden in your daily routine."

---
Capricorn:
The New Moon in your chart's zone of fun on May 11 suggests this might be a good time to focus less on work, duties and obligations and more on the things you enjoy or find relaxing. Observe a cat and see how he or she relaxes for vast hours. If this is too difficult, try channeling your energies into something creative or recreational so that you at least feel productive while enjoying yourself at the same time. On a deeper level, this New Moon suggests it's time to follow your heart and think less about protocol and rules and more about what really matters to you.

---
Aquarius:
With the New Moon in your domestic zone on May 11, this is an ideal moment to embrace a new beginning in your home and domestic life. If a change comes, welcome it, or if you desire a change, see whether you can initiate it. Attending to the feng shui of your home could be a really good use of this New Moon, as it's conductive to creating fresh, new energies. Clear out the old, move the furniture around to create a different kind of space, and generally make changes that feel invigorating and supportive to your aims and intentions. Letting go of the past will certainly help, whether in the form of physical things around you or emotional baggage that has weighed you down.

---
Pisces:
The New Moon in your mind zone on May 11 bodes well if you want to adopt a new way of seeing life, such as having a more positive attitude to being a better listener or communicator. "Communication" is the keyword now, so if you are involved in teaching, writing, speaking, studying or any subject involving communicating or receiving ideas, inspiration, knowledge and so on, the New Moon is a good omen for new beginnings and positive developments. It should feel as though the curtains are being swept back, allowing you to see a new day with fresh eyes. Now is the time to rewrite the script.
---