#Horoscope #Aries #Taurus #Gemini #Cancer #Leo #Virgo #Libra #Scorpio #Sagittarius #Capricorn #Aquarius #Pisces #Horoscope – overview of this week
The Center for the New Age is pleased to present your Free Weekly Horoscope for June 20 – June 26, 2021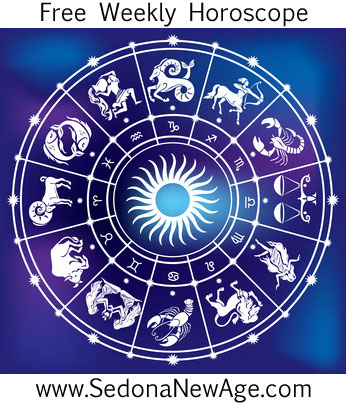 Receive our Free Weekly Horoscope in your Inbox
Aries Taurus Gemini Cancer Leo Virgo Libra Scorpio Sagittarius Capricorn Aquarius Pisces
Venus trine Neptune (June 21 – June 30) brings feminine love in harmony with spiritual expression. To love unconditionally is a way to acquire gifts of the spirit world. This has something to do with the old adage: what goes around comes around. Feminie expression is emphasized, and there is a greater potential to create a spiritually enhanced atmosphere. Venus trine Neptune helps to ease our woes with a support network of feminine kindness.
Venus opposite Pluto (June 23 – July 2) is a time to support those we love despite the challenges that appear too harsh to us. This aspect may bring on an acute awareness of the love that some folks have for power, and the need to have power over loved ones. Such power truly only exists with the act of letting a loved one be free to choose the objects of their affection. Counterfeit or manipulative love loses its power of attraction through the test of time. No one, no matter how powerful, can tell us what we love, who we love, or how we are to love. Deep in our hearts lies the real truth.
Full Moon in Sagittarius on June 24 encourages emotional energy to run very high. For many, there is a tendency to go way out beyond their usual boundaries and discover new territory. How we choose to perceive and develop our understanding of this new territory is used by what stage in our life we have come to and what kind of philosophy best suits our own individual needs.
Aries Taurus Gemini Cancer Leo Virgo Libra Scorpio Sagittarius Capricorn Aquarius Pisces
Free Weekly Horoscope for your Sign
Aries:
The full moon arrives in your success region on June 24 indicating to you the need to step into the limelight in some way. Work might demand more of your attention, your role could become bigger or more important for a short while, or a goal, ambition or project reaches fruition which could feel satisfying. It's important not to be afraid to toot your own horn. Self-promotion is important around the full moon because in some way, the universe is trying to draw attention to you. Watch out, though, that this doesn't take on a negative manifestation through an emotional outburst in public. Everything will be on display around June 24, so make sure that you have nothing to hide!

---
Taurus:
Our beliefs and attitudes are central to how well we navigate this world and, ultimately, where we end up in it. Negative beliefs or a limiting attitude will not help us reach success or feel happy or content. The full moon activates the mental area of your chart. This could reveal where your thinking is letting you down. We all have areas where our thinking is limited or a little on the negative side, but we don't have to stay that way. This full moon on June 24 is an opportunity to expand your thinking and to imagine greater possibilities.

---
Gemini:
Circumstances begin to smooth out as Mercury turns direct and the Sun moves into Cancer. Now, to some extent at least, the focus is off you and your personal life and on the more practical matters of what needs to be done. This might involve looking at your monetary situation, work issues, or beliefs regarding ownership and values. What do you value most? Perhaps now would be a good time to honor this more, so if freedom is high on your list of values, can you insist on having a little more of it? The full moon falls in your zone of transformation, so this might indicate the need to let go of something and move into a new phase of being.

---
Cancer:
The Sun's move into Cancer on June 21 and Mercury turning direct is good news for you, particularly if you're keen to get moving again after a somewhat introspective period. It's time to focus on recharging your batteries and putting your needs first for a while. It's important to remember that if we don't take care of ourselves, we will not be in a good place to take care of others, so don't allow a misguided concept of duty to drain what is left of your juice.

---
Leo:
One of the dangers of having Mars in one's sign is the tendency to overdo it. You could run yourself into the ground if you're not careful, because for a while at least, the energy appears to be there, so why not use it? This would normally be fine, but as the Sun arrives in your zone of rest and response and the full moon occurs in your sphere of health and work, you might need to perform a delicate balancing act. If you don't make the time for rest and replenishment, the full moon could draw attention to your health and well-being, urging you to take some time out.

---
Virgo:
As Mercury turns direct and the Sun moves into your social zone, you can now begin to make more of a difference – to others, with friends, in society or through manifesting an ambition or a goal. This is a wonderful time to be active and outgoing. It's also a good time to acknowledge that no one can live in a vacuum, so what steps are you going to take to ensure that your connections with others are thriving and nourishing? You could start by seizing any opportunity to engage with people, particularly where fun and enjoyment are concerned, as the full moon invites you to let down your air and let the good time roll.

---
Libra:
The full moon around June 24 could be an intense time, and it might help to retire to the comfort of your home for a short while, particularly if it becomes apparent that past conditioning is controlling you and bringing up strong emotions. It could help to remind yourself that the tighter we hold on to something or someone, the more likely we will lose it/that person. See whether there is a link between whatever you are feeling now and something in the past. For example, what does your current situation remind you of? Once you become conscious of what is trying to make itself known, you can move on.

---
Scorpio:
The intensity of the past few weeks begins to break, and in its place comes adventure, possibility and new potential. This is a fine week to push out of your comfort zone. If you've felt stuck in a rut, then try something new. Sometimes all it takes to breathe new life into our hearts and minds is to do something different: to travel to a place we've not been to before or to take up a new hobby or to eat a type of food that is new to us. Whatever it takes to blow the cobwebs away, make it your mission to embrace it.

---
Sagittarius:
This week's full moon on June 24 could bring financial or material matters to a head, which is likely to feel positive. This could relate to your home, work, finances or possessions. The only potential problem with this full moon is that you might be overly identified or too attached to something, so you might need to practice letting go or simply acknowledge that what is for you won't go by you. Sometimes we can't have everything, but this full moon, which is nicely aspected by Jupiter, strongly suggests that whatever you need will be given to you.

---
Capricorn:
With a full moon in your sign on June 24, it is important to pay attention to your needs; therefore, how you relate to others might become more important this week. Getting the balance right between the needs of others and what you want could be a challenge, and it could be too easy to let tension, anger and irritability get the better of you if you feel that others have overstepped the mark. The full moon has some positives if you are prepared to acknowledge what you need, because it asks you to nurture yourself – even if only for a day or two.

---
Aquarius:
The Sun's move into your house of health alongside the full moon occupying your zone of retreat suggests that you might need to turn your attention toward your well-being and nurture yourself with better quality sleep, rest and a general time out from the fray. While the Sun's change of signs bodes well for your work and productivity, you could find that if you overdo it (which could be tempting under ths transit) that your body begins to let you know. Pay attention to feelings of fatigue or emptiness before they turn into something else, and watch out for tension, as this could be undermining your well-being.

---
Pisces:
With Jupiter in your sign and the Sun moving into your house of fun and creativity, you are being prompted toward living a more colorful and expansive life, free of restraint and inhibition. If there's a situation in which you need to take a calculated risk, try something new but fun, or follow your heart more, then now is the time to do so. "Expansion" is the keyword this week. This might be the time to immerse yourself in a subject that challenges you or to experience new places, people or opportunities. Maybe it's time to show the world what you can do; a little bit of self-promotion won't hurt at this point. Just be careful to not overdo things this week.
---