#Horoscope #Aries #Taurus #Gemini #Cancer #Leo #Virgo #Libra #Scorpio #Sagittarius #Capricorn #Aquarius #Pisces #Horoscope – overview of this week
The Center for the New Age is pleased to present your Free Weekly Horoscope for February 14 – February 20, 2021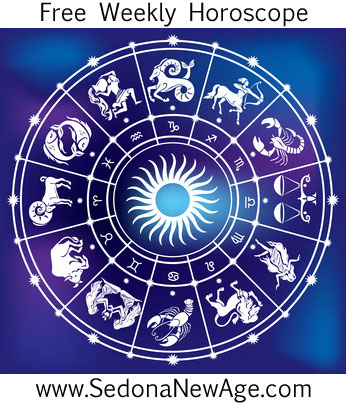 Receive our Free Weekly Horoscope in your Inbox
Aries Taurus Gemini Cancer Leo Virgo Libra Scorpio Sagittarius Capricorn Aquarius Pisces
Mercury conjunct Jupiter (February 14 – February 20) brings expansive talk which spreads quickly with news about the economic state of affairs. Thoughts and information (Mercury) with regard to a prosperous and visionary breakthrough (Jupiter) will be highlighted. It's a great time to boost the morale of others by complimenting them on their skills.
Venus square Mars (February 19 – February 28) creates tension and obstacles between the forces of love and the forces of defense. The archetypal images of Venus and Mars are largely that of feminine and masculine counterparts, and this aspect may bring stress between people in love relationships. The pain of separation or the sorrow of unrequited love may be a symptom of this time, as the rocky boat of romance is due to have some notable ups and downs. On the other hand, the difficulties of these tests may strengthen the power of love and, although it is sometimes very difficult to endure love related conflicts, it is also a necessary process to ensure the authenticity of our love experience.
First Quarter Moon in Taurus on February 19 brings the pressure to take care of essential needs. Taurus is a Venus ruled sign, emphasizing love, beauty, the luxuries of our world and the expression of appreciation. Taurus Moon emphasizes both beauty and practicality. The fixed earth nature of Taurus Moon leads many folks to watch their pocketbook, and make sure they're getting the most value possible out of all expenditures.
Aries Taurus Gemini Cancer Leo Virgo Libra Scorpio Sagittarius Capricorn Aquarius Pisces
Free Weekly Horoscope for your Sign
Aries:
Things should generally ease and improve this week, but you might encounter bumps along the road related to your personal life/relationships and a tendency toward emotional outbursts. This will especially be the case around February 18 and 19 when Mars conjuncts the Moon and squares Venus. During this two-day period, you will need to be mindful of your emotional state; however, bad moods will quickly pass. The Sun moving into your zone of soul and spirit suggests that surrendering problems to a higher power is a better approach than trying to do everything yourself. If you're feeling tired, this is a good time to retreat and catch up on rest.
---
Taurus:
You still have Mars in your sign, granting you strength, power, and determination, particularly when it comes to getting what you want. But make sure what you want is in alignment with your soul's purpose; otherwise, you could run up against a brick wall and the result could be an angry outburst. With so much potential and possibility at your disposal, it might help to consider what you really want, because when you are aligned with your true desires, everything magically unfolds. You might want to ponder this quote by Howard Thurman: "Don't ask yourself what the world needs. Ask yourself what makes you come alive, and go do that, because what the world needs is people who have come alive."

---
Gemini:
Your ruling planet is neatly sandwiched between the planet of optimism and the planet of doubt, so you could find yourself swinging from one state of mind to another this week. If this is the case, try to find center ground, such as being cautiously optimistic or practical and determined in your efforts to manifest a possibility. Alternatively, you might need to challenge yourself to go beyond either extreme of thinking and instead perceive things in a more whole and unified way. Clues will lie in any unconscious outbursts, because these strong emotions indicate what you have suppressed. Remember that whatever your current trigger, the cause is probably something in the past. By making peace with the past and releasing karmic ties, you will find it easier to embrace new possibilities.

---
Cancer:
Once the Sun moves into Pisces on February 19, things will get a little easier. The heaviness of previous weeks should be replaced by lighter and more expansive energy, and you can entertain new possibilities or embrace an adventure. You don't need to travel the globe to broaden your horizons. Sometimes a small change is enough. Take a different route to work, catch a bus instead of driving the car, or eat food you've never tried before. Adventures allow you to see life in more expansive ways, and they open doors to greater confidence and optimism. Whether you go for a big adventure or small, it's time to break out of your comfort zone.

---
Leo:
Love and relationships are still center stage and will be for some time. But as the Sun moves into Pisces on February 19, the theme of transformation begins to emerge, making the end of the week a good time to consider how you can strengthen your weaknesses, be they in body, mind, or soul. Perhaps you would benefit from a cleanse or from letting go of a draining situation. Maybe you need to confront a fear or a weak spot in your personality. Clearing out stagnant energy in your home could help lift your vibration. Do whatever you feel compelled to do, particularly if it feels transformative.

---
Virgo:
The focus on your daily routines – including work and health – continues. With Mercury retrograde, it would seem you might still need to focus on and review one or two elements of either your work or health, remembering that the Jupiter-Saturn conjunction is bringing you the gift of increased fulfilment with your daily life. Focus on what brings you the greatest satisfaction, particularly when this aligns with service to others. It's amazing how quickly personal problems diminish when you help others with theirs.

---
Libra:
If life is a game, do you know the rules? Do you abide by them? When you forget or deliberately flout the rules, problems can occur: health issues, conflicts or breakdowns in relationships, poor finances, or things that "go wrong" to show where you might be acting inappropriately. The Sun's move into your zone of right action is a good opportunity to right any wrongs, tighten up your game, and get your life working more effectively. While the planets are encouraging you to live more fully from the heart and to focus on what brings you joy, life might also be showing you there are limits. Your task is to know how far you can go in your pursuit of pleasure. This week, remind yourself that every action has consequences.

---
Scorpio:
A strong domestic theme still runs through your life, which could result in needing to resolve or review domestic issues. With Mercury still retrograding close to Saturn, taking a constructive approach to fixing or organizing things in your home or with your family should be productive now. Take care of whatever has been at the back of your mind. Clearing piles of clutter is a good use of the current energies, as is stripping old wallpaper or peeling paint. Fix possessions that need mending or get rid of ones you no longer need. Another good use of the energies is to take a trip down memory lane: organize old photographs., express your innermost feelings in a journal, or explore your inner landscape in therapy.

---
Sagittarius:
Mercury is still retrograde in your communication zone, but now it is strongly aligned with Saturn, emphasizing everything that was said last week. This week, however, you have a greater need for a steady and constructive approach to daily life. Be realistic and don't rush things, but at the same time allow your optimism to guide you to your destination. Also understand that the mind is a powerful tool and your thoughts largely create the results you see around you. Bringing inner situations into your consciousness can be difficult, but if a fated situation seems to be at work in your life, you might want to examine it to uncover what inner situation you have been suppressing.

---
Capricorn:
The material theme continues, and the challenge is to attend to whatever needs fixing and sorting, from little details in financial or business matters to bigger problems that need more of your attention. Attending to your accounts and organizing financial paperwork could be one productive example of this important planetary transit. Or you might take on a new position, apply for a new job, or review certain aspects of your business. Ultimately, you need a balance between optimism and realism, between taking a big leap forward and taking small, practical steps. Ideally, you express your God-given gifts in a way that leads to abundance on every level. Patience, diligence, and hard work, coupled with an optimistic attitude and a good dollop of faith, can produce miracles.

---
Aquarius:
No matter what challenges you might be facing, this is a time of opportunity to make your life more satisfying. Your current difficulties might be showing you what you don't want or providing insight into what you would like. As the Sun journeys through your sign alongside Jupiter, Saturn and retrograding Mercury, pay close attention to yourself and your needs to figure out what is next in line for your personal growth and development. The issue of what you want and need to be happy is likely pressing now, but give yourself time to find the answers.

---
Pisces:
Are you making sandcastles in the air, or are you creating something real and true? Your head is likely buzzing with ideas and inspirations right now, and the trick is to translate them into something soulful or artistic. When the Sun moves into your sign on February 19, you might get a clearer idea of what to do. Your energy, motivation, and positivity should increase, making it easier to do whatever inspires you. Remember that the Sun's journey through your sign signals a time to replenish your spirit by engaging in activities that make you feel good about yourself.
---